1479310454 / 0/
COMING EVENTS
Join Us For Fun, Fellowship, Food, and Bible Study!
ANNOUNCEMENTS - Updated 08-21-2022
_____
HOMECOMING - Don't forget to mark your calendar for Homecoming this month, August 28th. We will be having a celebration with dinner on the grounds. Invite your family, friends, and everyone you meet! Sunday School 10am; Worship Service 11am; Dinner on the Grounds 12pm.
_____
REVIVAL - September 11-14, 2022 at 7pm - featuring Rusty Swafford. Rusty will be giving us some "fireside chats" to encourage us in our faith and ministry. Tommy and Lori Parsons will be fixing a hearty breakfast for us on September 11 at 8:30am.
_____
COMING SOON: BEAVER CREEK EXPRESS - All aboard for the new and improved Sunday Children's Sunday School Hour. We will start at 10am with songs, scripture, and activities before the children go to their class. Proverbs 22:6 says "Train up a child in the way he should go…." So we're hoping on the Express to help the children learn the WAY (Jn 14:6). MORE INFO to come soon!
_____
H.O.W.L. - Hanging Out With the Lungs - 6PM. Will be taking place each Wednesday Night during the summer. Bring some picnic food to share. We'll be playing games, eating food, and reading a Bible Story and sharing what it means to us. Bring some lawn chairs and hang out with us!
_____
STEPPING UP - We will be walking at the church on Wednesday NIghts after HOWL at 7:30pm. STEPPING UP is to encourage eating better and moving more for weight loss and better health. We will encourage each other with spiritual and Biblical motivation.
_____
GREETER'S SCHEDULE -
1st Sunday - Dale and Jean Evans
2nd Sunday - Darrell and Sandy Compton
3rd Sunday - Norman Greer / Trula Worley
4th Sunday - Ken and Ann Becker
5th Sunday - Norman Greer / Trula Worley
_____
COMMUNITY PRAYER NIGHT - Every 5th Wednesday at 6:30pm
June 29 - Appalachian Church
August 31 - Bald Mountain Baptist Church
November 30 - Beaver Creek Christian Church
December 28 - End of the Year Prayer at Appalachian Church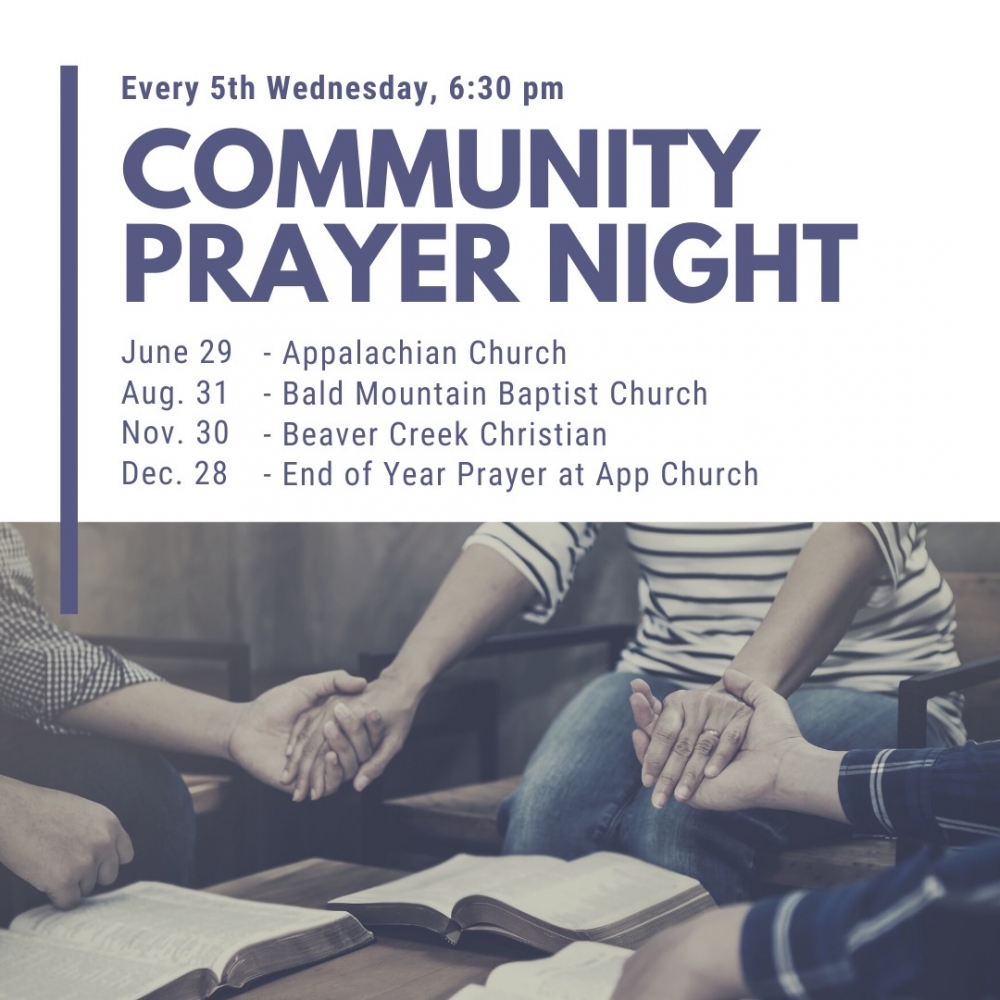 _____
SOUP FUND SUNDAY COLLECTION - SOUP FUND is collected every 4th Sunday during the Sunday School hour. We are collecting for Souper Bowl Sunday when we give our donation to Ashe Really Cares (ARC) to buy soup for those in need. We will post a running total on the missions board in the foyer. Everyone is invited to participate. Let's help give an M-M-M, M-M-M good offering!
_____
SINGSPIRATION - van leaves at 4:00 pm for FOSCOE CHRISTIAN CHURCH. Refreshments at 5pm. Program at 6pm.
SINGSPIRATION CALENDAR 2022
August 28: Foscoe Christian Church
September 25: Elk Park Christian Church
October 30: Minneapolis Christian Church
Refreshments are served at 5 PM – Singing starts at 6 PM.
_____
BCCC MEMBERSHIP - We are currently working to update our active membership list. We will be making calls to verify our records. All members must be immersed believers who have made an open profession of faith.
_____
MINISTRY TEAMS - Ministry Team Leaders Meeting (07-10-22)- 6pm, Tonight. This meeting is for all people who are interested in knowing about and participating in our ministry teams. We are looking for people for Benevolence, Building and Grounds, Education, Evangelism and Outreach, Fellowship, Prayer, Missions, Safety, Visitation, and Worship. This is your chance to get involved in at church.
_____
VISITATION TEAMS - Many of the nursing homes are opening up again. Visitors may go in as long as they are wearing mask. We are interested in starting the visitation program up again soon but we need volunteers who are willing. If you are ready to get back to visitation please see Sandy Compton or Loren Lung as soon as possible so we can start making plans.
_____
JOIN US FOR SUNDAY SCHOOL: Join us each Sunday School at 10am for our Sunday School lessons with our four teachers: Ric Kolseth, David Grubb, Tommy Parson, and Mike Grubb. We also have an alternative adult class in room 201 with teacher, Kevin Nichols. We also have Sunday School for children as well as adults. Sunday School opening starts at 10:00am in the sanctuary.
_____
CONNECTION MINISTRY: We are asking all members to pray, keep in contact with each other by phone, email, text messages, or mail. Please take the opportunity to encourage and lift each other up. Please let Loren know if there are any needs of our people so that we can try to help.
_____
TITHES AND OFFERINGS: Your support is always appreciated. We have placed the offering plates at the back of the auditorium and have a mailbox slot on the green box on the porch for your giving convenience. If you are not able to contribute you on Sunday, you are encouraged to send your tithes and offerings to Pat Grubb at 789 Northridge Dr., Boone, NC 28607. If you have any questions about giving please contact Mike or Pat Grubb by email: pmgnmwg@bellsouth.net or by phone at (828) 264-5286.
_____
PHONE TREE: The policy for the phone tree is to activate it for prayer request only upon permission or request of the family and to provide updates as the family provides them. We cannot pass on to you information we do not have or that we have not received permission to share. The administration of the phone tree is through Loren Lung, Ric Kolseth, or Amanda Thompson.
_____
COMMUNION TO THE SHUT-INS: If you would like communion brought to your house please let us know and one of our men when come and serve communion to you along with prayer and a scripture reading.