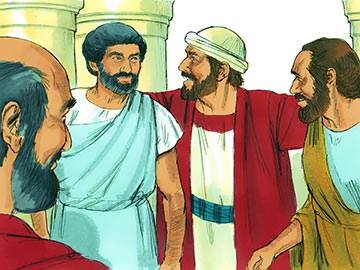 Acts 4:36
There are a lot of questions being asked right now in the face of this Coronavirus (COVID -19) pandemic. The supermarkets are being stripped of goods, places of business are closing, and some of those who are venturing out look like characters in a sci-fi movie. There is a lot of fear mongering going on right now. It's even hard to watch the news because it seems all doom and gloom.
The best thing you can do right now is take your mind off your concerns by giving it all to the Lord and reaching out to help others. Often times when we refocus our attention our own problems seem very small and insignificant.
In Acts 4, we meet a man named Joseph who was given the nickname, Barnabas, by the Apostles. Barnabas means "Son of Encouragement". It is most likely the given to him because his ability to make lemonade out of lemons and turn cloudy days into sunshine. Yes, he was an optimist who trusted in God and spread encouragement to the other brothers and sisters in the faith.
Yes, the church building maybe closed but the church itself is still going strong. Take the time today to encourage others by calling and seeing how they are.
You can use this call to accomplish three things: The purpose of the phone call will be threefold: 1) Determine if they have a need that we as a church may be able to assist with; 2) Communicate church information to those who may not have internet access; 3) Listen well and spend time with them to help meet the fellowship needs of your brother or sister in Christ and help stay off loneliness from the isolation due to Coronavirus.
Let's keep our heads and not join in to the panic and fear.
Let's help encourage each other during this time of crisis.
Let's trust in Jesus to see us through.
PRAYER THOUGHT: Dear Father in Heaven, I praise you for the marvelous things that you have done. I praise you for your mighty arm, your protection in time of distress, and your provisions and blessings that come daily. I lift up to you right now my congregation and the people of our country. Help us not lose our heads and become people of panic and fear. Let your perfect love cast out all our fear. Help us to love others and reach out to encourage each other in this time of need. Help us to hold out the light of salvation through Jesus Christ as we work to meet the needs of others. In the precious name of our Lord and Savior, Jesus, AMEN!
-Loren Lung
Mar 19, 20/ Preacher/ Ministers Minute/