28 Helpful Hints for Bible reading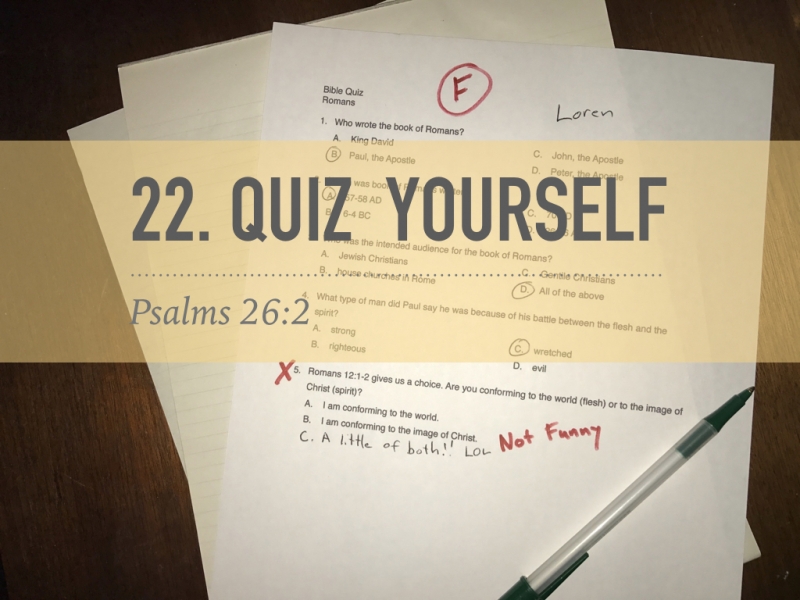 22. Quiz Yourself - Psalm 26:2
22. Quiz Yourself - Psalm 26:2
Psalm 26:2 - Test me, Lord, and try me, examine my heart and my mind
It is an admirable thing for the Psalmist to express to the Lord to "test me". He wants God to see if there is any wicked ways hidden there because he has always tried to follow God's way. Sometimes we need God to "test us" so that we can see which way we will go in a given situation. It's good to put your faith to the test.
It's admirable because I don't know how many of us would be willing to have God probe our thoughts and motives. After all, what if he finds that secret I've hidden in there? What if my motives aren't always selfless or Godly? Do I really want God to check it? Do I want him to find my faults?
Yes, I would rather that he find it now and allow me time to be reproofed and repent of it than to have that shoved to the back of the closet for him to find when I stand in judgement! When we stand before God I want to be found faultless and pure. I want him to reveal to me the things that I have hidden so that the blood of Jesus will wash away every sin.
I believe it is a good idea to "quiz ourself" daily on what we have read and if we are really applying that to our lives. Write out some hard questions and ask yourself if you are really doing that?
I walked into a classroom of middle school children who were studying for a Bible Bowl. They had been reading and studying the book of Romans. The coach thought it would be good practice to see if the children could stump me with some of the questions. I was sweating bullets at first but I actually did well at answering the questions. Suddenly one of the girls said, "Romans 12:1+2 urges us present our bodies as a living sacrifice and not be conformed to this world. Mr. Loren, Are you conforming to the world or to the image of Christ?" You could have heard a pin drop and then the rest of the students all made an "uh-h-h-h-h" noice. I had been half way ready for the content questions but the application question made me "hem and haw".
I believe that we should quiz ourselves on content. There are several sites online that have quizzes especially designed by chapters of the Bible. They will help you to learn the content of the Bible and even quiz you on the meaning of some verses.
Application is a little harder. There are some books and websites that can help you with this too. But the real trick is addressing the situations in your life that are brought to light by the word of God and the Holy Spirit. You may need an accountability partner or a study group that isn't afraid to use the scriptures to teach, rebuke, correct and train in righteousness so that you can be equipped for service. Are you ready to confess and repent of your short-comings? Are you ready to dive deep into the word?
May God bless you today as conform to the image of his Son. This is the renewing of the mind that puts you in sync with the will of God.
PRAYER THOUGHT: Dear Holy and Perfect God; Your ways are clear and right. I know that that I am not perfect. Please forgive me and help me to change those things that are not right in my life. Give me strength to quiz myself and have you test me and see what I need to make right. Thank you for the blood of Christ that cleanses me of all iniquity when I confess my sin to you. It is in Jesus' name that I come to you with this petition, AMEN!
-Loren Lung
Feb 22, 17/ Preacher/ Ministers Minute/