28 Helpful Hints For Bible Reading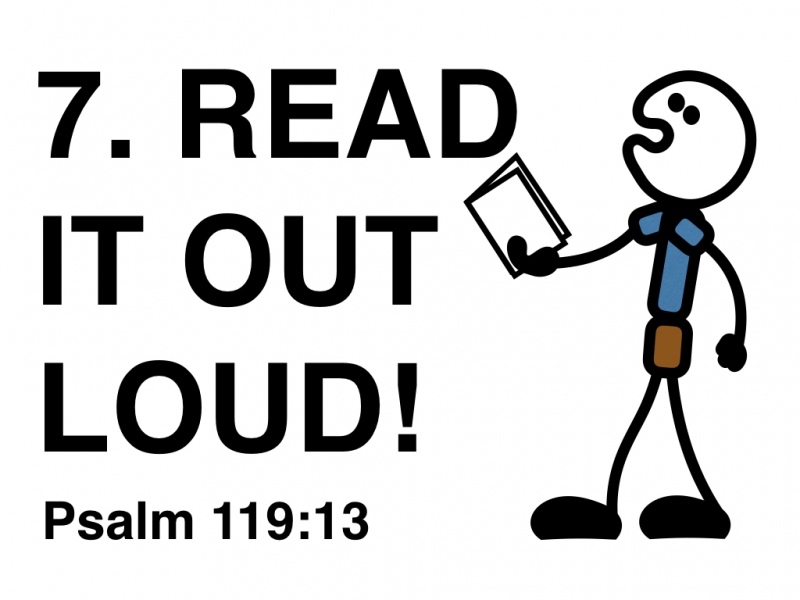 7. Read the Bible out loud - Psalm 119:13
7. Read the Bible out loud - Psalm 119:13
Psalm 119:13 - With my lips I recount
all the laws that come from your mouth.
I was trying to read from the Book of Isaiah the other day. But I wasn't in a quiet place and my mind wasn't at peace. The TV was on in the other room. A seven-year-old boy with lots of energy was kicking a ball in the house (ugh). This and all the other noises of the day made it difficult to keep my mind focused on reading God's word.
It would have been easy to set the Bible aside and try again in another moment. I could have gone elsewhere where it was a bit more quiet. I could have put my headphones on and listened to the word on my computer. But instead I started the reading over from the start but this time reading aloud.
I felt like the words that I was speaking were coming from somewhere else. I was able to put my whole concentration on each word. I was uttering the very words that God had spoken through the prophet Isaiah. These words seemed to have a life of their own as I read aloud.
The ancient Greek philosophers believed that spoken words had power and took on a life of their own and so they took care how they used them. In that moment, I understood what they thought.
These words that I am speaking with my lips are the same ones that came from the mouth of God. I understood the authority of these judgements that Isaiah was pronouncing. It was a religious experience just to utter those same words in that moment.
I had just finished reading the last sentence of the reading for that day, Isaiah 28:29. It reads, "All this also comes from the Lord Almighty, whose plan is wonderful, whose wisdom is magnificent." There by my desk standing quietly was the boy with too much energy. He looked at me and said, "That was good, Grandpa."
There is something special about reading God's word out loud. I love the public reading that we do in church. God uses each person's voice to utter his word anew. And it is a blessing to hear it and apply it to our lives.
May God bless you as you utter aloud the words that came from his mouth to your ears. May you to see the wonder and magnificent wisdom of his plan
PRAYER THOUGHT: Dear God of Wonders; how majestic and magnificent are your words. Fill me with the splendor of you word. Let you Holy Spirit show me your ways. Thank you for your plan for my salvation and for Jesus Christ who died for me. It is in his name I pray, AMEN!
-Loren Lung
Feb 7, 17/ Preacher/ Ministers Minute/