28 Helpful Hints For Bible Reading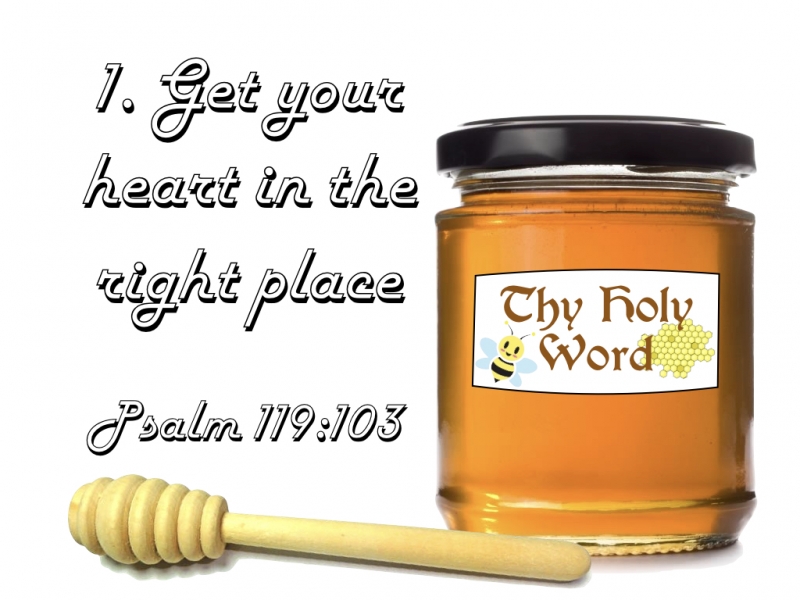 1. Get your heart into the right place. - Psalm 119:103
Get your heart into the right place. - Psalm 119:103
Psalm 119:103- How sweet are your words to my taste, sweeter than honey to my mouth!
This year at BCCC we are using a reading program to help us read through the Bible in a year. Instead of going through the Bible from cover to cover we are using Michael Coley's program which you can download at www.Bible-Reading.com. They also have other programs available.
But the problem with forcing yourself to read God's Word is that it can become a chore. When you get behind you can get frustrated and stop all together. So before you start filling your head with knowledge you have to get your heart in the right place.
You need to have your heart set…hunger and thirst for his word and righteousness! If you want your Bible reading to be successful and profitable to your life than you need to want it.
I don't know about you but I need to eat. I just ate breakfast a few hours ago and guess what? In another hour or so my tummy will want a sandwich or something to fill it. When you have a hunger for God's word you are driven back to it time and again... not just daily but often!
How you think about God's word will determine how well you do. You need to develop a desire to read God's word, discover something new or exciting, and apply it to your life. It's as easy as one, two, three.
1. Explore the Bible as God's Word for you.
2. Discover something new or exciting in his word.
3. Apply that scripture to your life.
As you do this you will actually hunger even more for God's word.
Start today by asking God for this hunger for his word. God's word does not return void. Ask God to give you insight and understanding to what you are reading and apply it to your life.
May God bless you today as you develop a hunger for his Word in you life.
PRAYER THOUGHT: Dear Father in Heaven; You have blessed us with your Word. I praise you for the fact that it is available to me in so many forms and translations. I thank you for the many tools that you have given so that we can get more out of your word. Bless me today and help me to hunger daily for your word. In Jesus' name I pray, AMEN!
-Loren Lung
Feb 1, 17/ PREACHER/ Ministers Minute/