28 Helpful Hints For Bible Reading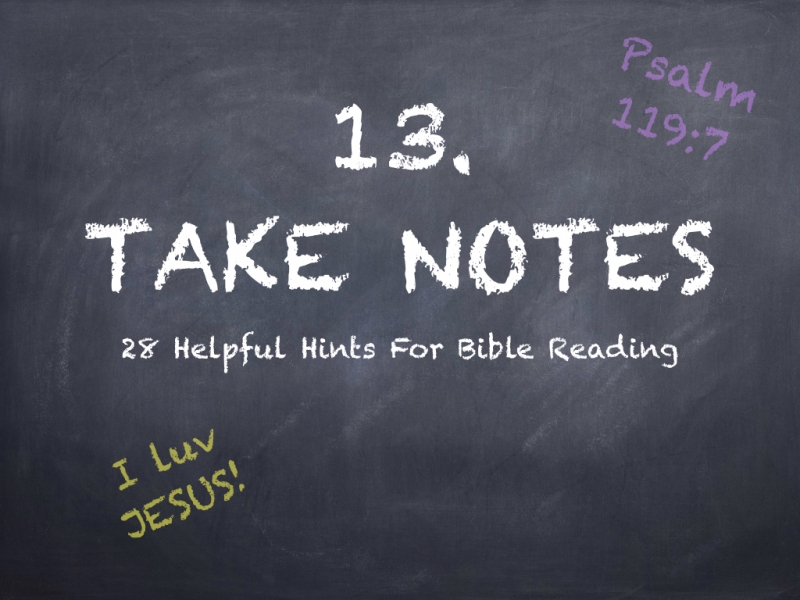 13. Take Notes - Psalm 119:7
13. Take notes while reading - Psalm 119:7
Psalm 119:7 -I will praise you with an upright heart as I learn your righteous laws.
When I went to college the first time I approached it like high school. I set close to the back and was easily distracted. Needless to say it didn't take long for me to figure I wasn't getting much out class. I couldn't recall much at all when it came to quizzes and test. So I dropped out.
During my next attempt I set up close to the front. I took a lot of notes and asked a lot of questions. When test time came I found that it was easy to pass. Not only did I get the grade but I also retained much information that I still recall today.
In our Bible study and reading we often get out of it what we put into it. I have a notebook which I keep nearby to write down words or things that stick out or don't quite make sense. After my reading I will try to investigate what those thing are about. If I don't find answers in my books or on the internet than I will ask my friends and colleagues in the ministry. You would be surprised the great discussions that often sparks.
You might want to get a spiral notebook of your own. Write down any questions that you may have to asked your preacher or teacher or to look up later. Write down any meaningful verses to you and meditate on them. Write down how this passage applies to you.
May God bless you as you praise him with an upright heart and learn what his holy word has for you.
PRAYER THOUGHT: Dear Holy God; Your word is better than costly than gold, more precious than silver, better than anything else in this world. It is like a multi-faceted diamond that glitters and brings light and life to my soul. I praise you for your holy word. I ask that you help me to continue to study and absorb the truth held in it's pages. In Jesus' name, AMEN!
-Loren Lung
Feb 13, 17/ PREACHER/ Ministers Minute/