28 Helpful Hints For Bible Reading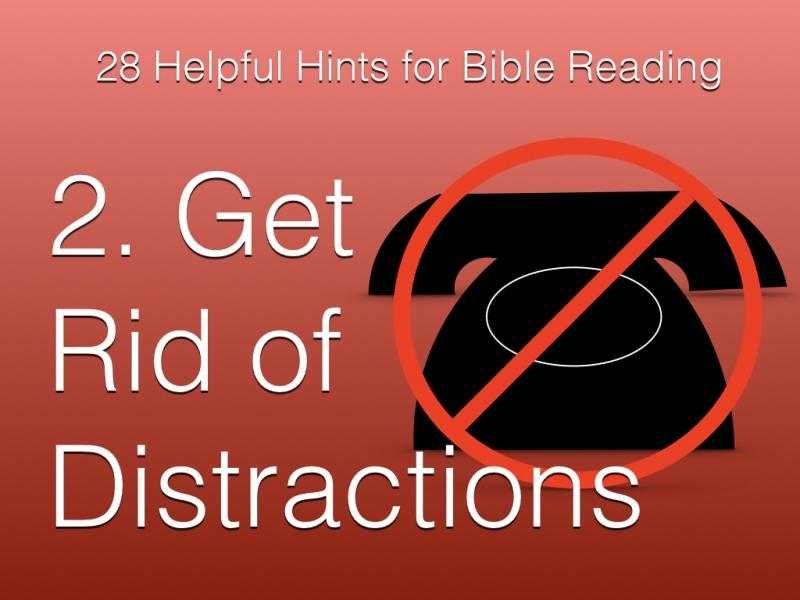 2. Get Rid of Distractions - Psalm 46:10
28 Helpful Hints for Bible Reading
2. Get rid of distractions - Psalm 46:10
Psalm 46:10 - He says, "Be still, and know that I am God;
I will be exalted among the nations,
I will be exalted in the earth."
This is probably the hardest thing to do. Turn the cellphone off, put the kids down for a nap, find a quiet place, clear your mind and focus… then someone comes to the door. We all know that story.
In Psalm 46, David gives us a vision of what our lives seem like at times. The earth moving, the mountains shaking, the sea roaring, all illustrations of our life. Turmoil, stress, busyness, and constant upheaval are a good way to describe our lives at times.
But David starts his song off by saying, "God is our refuge and strength, an ever-present help in trouble." It makes sense that we should find out what this help and strength has to say in His word. We need to spend time to read... but how?
You won't get a perfect place or time so you have to make it in your mind. Remember that Satan does not want you reading the word. Our biggest weapon against him is the Word and the Truth. Both will be discovered in your reading. So try to find peace…even if it's just in your own mind… before you pick up the Bible.
I have two grandchildren, a daughter, a disabled father-in-law, and my wife living with me in a small 3 bedroom, 1 bathroom house. Needless to say, it is often chaotic and noisy. So I go to another room and shut the door, or I put on a set of headphones (even though I don't always turn them on) and I zone out the world while zoning in on my study.
Take a moment to "Be still and know God". Don't let the noise and chaos around you distract you from studying God's word and his will for your life.
May God bless you with a quiet and still moment to soak in his word. May God bless you today as you read, study, and grow.
PRAYER THOUGHT: Dear Father of Peace; My world can sometimes seem pretty noisy and distracting. Help me to find a still moment to rest in your word. Help me to comprehend what I am studying and apply it to my life. In Jesus' name I pray, AMEN!
-Loren Lung
Feb 2, 17/ Preacher/ Ministers Minute/