31 Ways To Let Your Light Shine!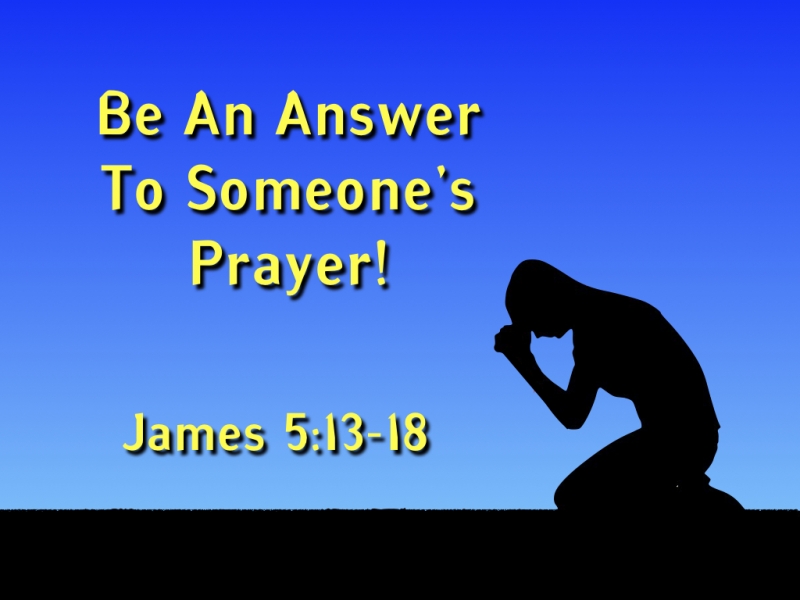 5. Be the Answer To Someone's Prayer Today - James 5:13-18
5. Be the Answer to Someone's prayer today.
James 5:13-18 - "...The prayer of a righteous person is powerful and effective..."
I was going through FB yesterday looking at all the post before I had my morning prayer time with my Lord. I notice so many people with prayer request and I started jotting them down. Before long I had a lengthy list. The prayer list at church is always lengthy too. There is so much need out there.
I believe that one way that we can shine like stars is to pray for people who have needs. Sometimes the need is so great that only our powerful, compassionate God can bring an answer. But there are other times when I see needs that are rather simple... and something stirs inside me.
Sometimes when I am praying I get the urge to do something more. Perhaps that is God's Spirit stirring in me the desire to be an answer to prayer. After all, James tells us that we should put our faith in action rather than just saying "I'll be praying for you"(James 2:14-27).
Being an answer to prayer is a powerful way to shine the light. It might be as simple as writing an encouragement note to someone who is depressed or stopping by someone who is sick and shut-in. Other times it may cost a little more like giving some money or buying some groceries. Sometimes it may take a little work like fixing someone's porch steps or mowing their lawn. Sometimes the answer to someone's prayer takes coordinated effort with other Christians or the Church.
Most people who are suffering just want to know that someone is listening and cares. God maybe stirring in you to be the answer to someone's prayer today.
May God bless you today as you seek to be the answer to someone's prayer.
PRAYER THOUGHT: Dear Lord In Heaven; You are my provider, protector, healer, comforter, and savior. You have done so much for me. Help me to be the answer to someone's prayer today. Help me to see the needs around me and to be a blessing so that your light will shine through me. In Jesus' name, AMEN!
-Loren Lung
Jan 7, 17/ Anonymous/ Ministers Minute/