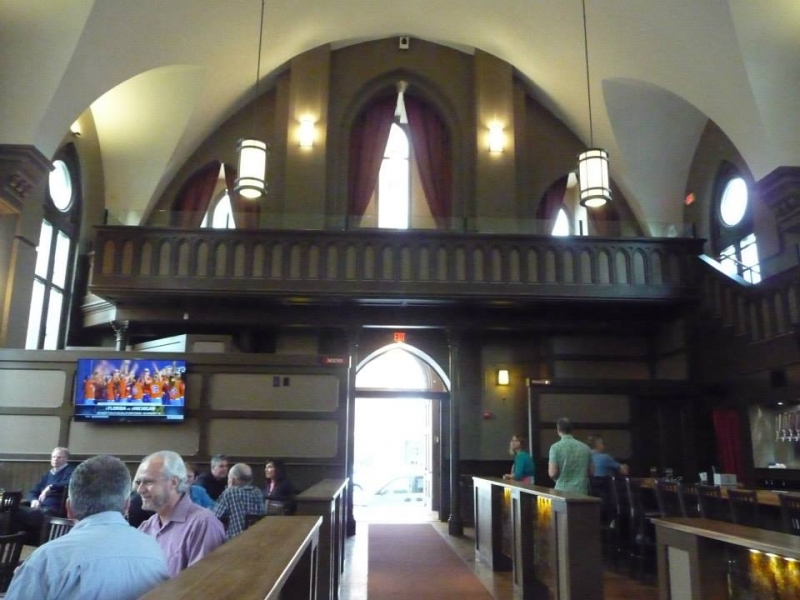 Acts 2:42
Acts 2:42 –They devoted themselves to the apostles' teaching and to fellowship, to the breaking of bread and to prayer.
I have to admit that I get a bit upset when I see an old church building converted into a fitness club, a brewpub, or restaurant. It's not that there is anything holy or sacred about the building. It's just a building… a piece of real estate where people used to gather to worship God.
I think about the songs of praise and worship that were raised to God in those buildings. I think about the people who sang them and the preachers who preached in the pulpit long since removed to make way for a salad bar or beer tap.
These building had a purpose that they fulfilled and have now been re-purposed for some other use. I may not always care for how they are now being used but that is not my concern.
I am seeing a lot of churches that were once thriving and full now struggling to keep the doors open. My aunt was talking about how few there are attending their church. They barely raise enough money to pay the preacher and the light bill. The sad news is that they announced that if things keep going they will only survive another two years. I'm sure that sucked the joy out of any ambition that they had left in them.
Some people think that churches are dying because of the changing times. Some say that it is because people don't have time for church. There are those who think there is no value in church. Some say that the church has outlived it's purpose and needs to die.
I don't believe any of that. I believe that the church is as relevant today as it was in the beginning when it started on the day of Pentecost (Acts 2). I just believe that the message and the purpose has been lost and convoluted. We are good at coming together for an hour a week to worship. But we are missing the rest of the mission. The church has lost it's value because it focused on the building and not the mission.
No, the building isn't special. It is the people. They are Christ's Ekklesia. They are the ones who are called out. They were called out by Jesus for a mission. The mission is to worship, fellowship, discipleship, evangelize, and outreach. We were not called out to build buildings or care for property. We were called to take care of people.
There are churches that are thriving. There are churches that are growing. And there are churches that are doing incredible things in the name of the Lord. They don't always meet in the traditional building. Sometimes they meet in outdoor pavilions, store-fronts, or even barns. Some of these churches build buildings that suit their purpose that don't even look like the traditional church building.
My sister commented that my parent's church doesn't look like a church. It looks more like a movie theater or office complex. To their credit, they don't act much like a traditional church either. Their bulletin is full of ministry opportunities. They meet in homes for growth groups. There are so many activities and opportunities during the week that the worship team actually has to have a special practice room just to get ready for Sunday because the auditorium is constantly being used.
But it's not just about being busy and active and full. The people have opportunities to become disciples and grow in their faith, opportunities to get involved, opportunities to minister to the needs of others, and even opportunities to take missions trips to foreign countries. They freely share their faith with others. They don't try to win them to the church but to help them build a loving relationship with Jesus Christ that inspires them to keep growing spiritually.
I believe in the church. I believe in God's people. I believe it is time that we get serious and get back to the mission that we were given.
Prayer Thought: Oh Holy God, We praise you for who you. We thank you for your goodness. We worship you. Father, you have called us out and given us a purpose to our lives. We ask you to stir the spirit within us so that we may be united as we work together in love to fulfill this mission. Thank you, Lord. I pray this in the name of Jesus, Amen.
- Loren
Jun 4, 15/ Preacher/ Ministers Minute/